Tales of the Talisman, Volume 10, Issue 1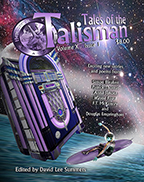 Order issue: $7.00 (plus shipping)

What if you could slip back in time and become the person who wrote every hit song you know and love today? Wayne Faust introduces us to a man who does just that.

Slow, shambling zombies are a thing of the past. Steven J. Bitz follows a man trapped in an apocalyptic wasteland who must run for his life from a very agile zombie.

Douglas Empringham is back with a new tale of Rhing and Folie. This time, they meet a woman who flies a steam-powered ornithopter.

Jack Herbert asks what happens when love toys become sentient and learns that other emotions can come into play. Escape with these and other stories and poems in Tales of the Talisman Volume 10, issue 1.
Tales of the Talisman, Volume 10, Issue 2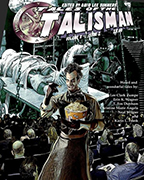 Order issue: $7.00 (plus shipping)
Explore the worlds of Mad Science with Tales of the Talisman!

The Large Hadron Collider provides scientists an opportunity to test predictions made by particle and high-energy physics. Lee Clark Zumpe shows us what could happen if an elder god chose to use it as a gateway.

Charles Chapman and David Van Houten imagine scientists building an artificial heart in the nineteenth century to pulse-pounding and maddening effect.

In the future, the wealthy might have the ability to reenact the space flights of the 60s. Mike Wilson shows us that such games are not without peril.

Erin K. Wagner asks what would have happened if Thomas Edison had used his inventions to summon the dead.

Indulge your weird scientific curiosity with these and other stories in this issue of Tales of the Talisman!
Tales of the Talisman, Volume 10, Issue 3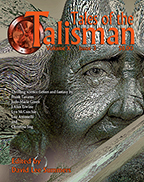 Order issue: $7.00 (plus shipping)
Hurricane Katrina had a far-reaching impact for New Orleans and the country. Lou Antonelli shows us the impact it had on mermaids.

Frank Tavares shows us that a person really can fly and if they ever get the opportunity, they should relax and enjoy the experience.

Kaiden is a man looking for companionship in a Lovecraftian wasteland. He pleads an elder god for help. As Glynn Owen Barrass asks, what are monsters without someone to scare?

Jude-Marie Green shows us that even starship captains can learn lessons in command through the power of magic.

David B. Riley shows us what happened the year Santa attempted to modernize toy delivery!

All this and more in the winter issue of Tales of the Talisman!
Tales of the Talisman, Volume 10, Issue 4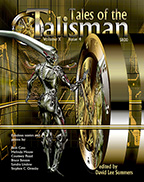 Order issue: $7.00 (plus shipping)

A woman copes with a troublesome pregnancy and the mortality of her mother. Melinda Moore shows us how the crows respond.

Simon Bleaken reminds us that tenant rights have always been a tricky issue, especially when the landlord wants to use the tenants to replace his dead family.

Courtney Floyd introduces us to an Albuquerque private detective who has a penchant for riddles and supernatural mysteries.

What would happen if solar flares rendered all electrical systems useless? K.S. Hardy imagines the clockwork world that results.

Lee Clark Zumpe reminds us that the ghost of H.P. Lovecraft still haunts the world today.

These and other thrilling stories await in the spring issue of Tales of the Talisman!