Tales of the Talisman, Volume 4, Issue 1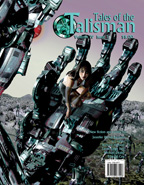 Order issue: $7.00 (plus shipping)
Richard Harland introduces us to a society that didn't have written language, but rather communicated through scents. Rick Novy takes us off to a world where people race basilisks. Did you ever think your co-workers were mutants? Well Michael D. Turner takes us to a laboratory where the workers really are mutants! Donna Marie Robb takes us to the world of the imagination and i ntroduces us to the dream painters. Lawrence R. Dagstine takes us back in time to World War II where a submarine must battle a giant, mechanical squid built by Nazis. These and other stories and poems await in the Summer 2008 issue of Tales of the Talisman.
Tales of the Talisman, Volume 4, Issue 2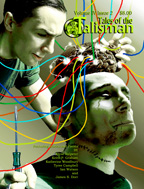 Out of Stock
Tyree Campbell takes us back to the middle ages when monks and priests battled zombies. Keith P. Graham really heats things up with two lovers who are also fire-eaters. Sherry Fresonke Harper takes us to Saturn where a miner moonlights by carving tombs in the rings but almost becomes entombed himself. Rick Novy shows us how to thwart a dictator. Where do you find storage for your dragon? What would happen if time stopped every time you were put on hold? What if Yeti replaced telemarketers? These and other questions are answered in the stories and poems you'll find in the Autumn 2008 issue of Tales of the Talisman.
Tales of the Talisman, Volume 4, Issue 3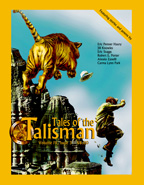 Out of Stock
Eric Staggs joins a brave and resourceful nun who is battling whales from space intent on stealing Earth's resources. Lester R. Clark takes us to a village where all the new wizard can conjur are little pink dragons. Konur Prime is a beautiful world, but watch out for the assassins. Vonnie Winslow Crist shows us how you can seek refuge in the Canyons and the dangers you might find there. Jill Knowles takes us to one of the most exotic locations of all, the end of the rainbow. Just remember to leave the colors where you find them. Read the Winter 2008 Tales of the Talisman and you will be transported to these and other exotic locations along with many brave explorers.
Tales of the Talisman, Volume 4, Issue 4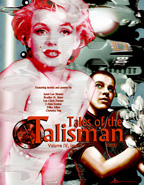 Out of Stock
Ah, springtime! It's the time when a young person's thoughts often turn to romance and we're no different here at Tales of the Talisman. It's just that our romantic musings take a somewhat fantastic turn. Join us as Michael D. Turner introduces us to two lonely space farers who rescue a pair of stranded lasses. The only question is, just how long ago were they stranded? Lee Clark Zumpe introduces us to a couple who must try to work things out in spite of the surprisingly strong pull from a mysterious house. Mike Allen tells the tale of a couple who face a world that is changing in strange and gruesome ways. Even as the air warms this spring, we'll bring you a new tale of Jack Frost. Accompanying him will be dragons, unicorns and sinister aliens. Please join us for another exciting issue of Tales of the Talisman!