Tales of the Talisman, Volume 5, Issue 1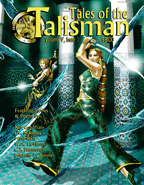 Order issue: $7.00 (plus shipping)

This summer we present an action-packed issue of Tales of Talisman. W.A. Hoffman tells us the story of a warrior who finds himself fulfilling two apparently contradictory prophesies. F.T. McKinstry introduces us to an orphaned girl on the threshold of womanhood who inherits a splendid, mysterious garden from three generations of wisewomen. When a roguish wizard attempt to impress her, she must turn to the old powers for help. Summer is often the time to get in your car and get away from it all. However, high gas prices may not be all you have to fear on the road as Ken Goldman and Dawn Colclasure show us in their stories. You might choose to forego the car and take a walk on a pleasant summer evening when the stars are shining. Rick Novy tells us such a story and reminds us to pack a pressure suit, especially if the walk will be outside your spaceship. Join us as Tales of the Talisman begins its fifth exciting year!
Tales of the Talisman, Volume 5, Issue 2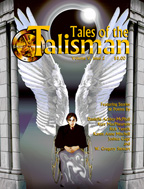 Out of Stock
Karen Anne Mitchell introduces us to a Taiyiha-a woman who has been made into the ultimate lover by aliens-and a lonely man who faces his own inner demons. Join Lawrence R. Dagstine as he shows us the lengths a werewolf must go to adopt a child. Danielle Ackley-McPhail gives us a glimpse into the life of a lonely man and the solace he receives from a humble visitor. J Alan Erwine will show you a dark future where a soldier who has seen too much is treated as a criminal. This issue includes eleven stories and eleven poems guaranteed to sweep you away on wings of the imagination. Don't miss the autumn 2009 issue of Tales of the Talisman!
Tales of the Talisman, Volume 5, Issue 3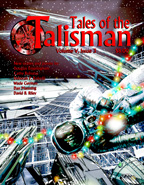 Order issue: $7.00 (plus shipping)
The holidays are here and we know how busy they can be. At Tales of the Talisman, we're more than happy to take you on a journey out of this world as we celebrate the end of 2009 and the beginning of 2010. Join Deborah P. Kolodji as she takes you to Mars and introduces you to a cook who faces the challenge of preparing brocolli, colored orange by the red soil. Hopefully you'll get everything you want this holiday season and perhaps some of it will require insurance. If so, David B. Riley recommends Gompers Insurance Company. After all, if they'll insure a war on a distant world, surely theyll insure the valuables you get from Santa! Perhaps you'd rather not leave the planet and just take a seaside holiday. If so, we'll be happy to take you to Charlmouth. However, author Barbara Davies warns us that a kraken has been seen guarding the bay. Fourteen stories and fourteen poems in all await you in the winter issue of Tales of the Talisman. Hope you join us!
Tales of the Talisman, Volume 5, Issue 4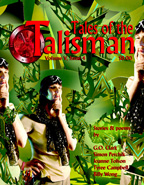 Order issue: $7.00 (plus shipping)

In the spring issue of Tales of the Talisman, Tyree Campbell rocks our world with a band whose lead guitarist can teleport from the stage to other places using her guitar -- a great way to get away from annoying groupies! John Bruni takes us to the office of Martin Ogelsby who has a portal to a new world in the bottom of his desk drawer -- perfect for a day off. G.O. Clark shows us souvenirs from our favorite B-movies. They are little action figures that have a way of bringing the movies home to us -- unfortunately they don't do it by going out and renting videos. Billy Wong takes us on a scavenger hunt in ancient times. However, these things are more than a little challenging when a demon has one of the items you're looking for. Join us as we escape the mundane in the spring issue of Tales of the Talisman.